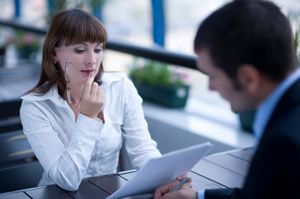 Here you'll find answers to common questions our clients ask. Start by selecting one of the links below. If you don't see what you need – call or contact us online.
At what resolution should I save my photos and graphics?

Resolution should be set to 300 dpi.

Pictures and graphics pulled from the internet are often low resolution, typically 72 dpi or 96 dpi. Avoid these graphics, as they will appear pixilated and blocky when printed.

Also note that you should save all photos in CMYK mode, not RGB mode when possible. Images saved in RGB mode may not print properly. If you are unable to save your image in CYMK mode, please let us know.

Well, since you are here, we would suggest you use our online estimate request form. Otherwise, the best way to ensure that we get all the information necessary to do an accurate quote is to give us a call and talk with one of our customer service representatives.

How long does it take for me to get the proof of my job?Once you have placed your order, you should get your proof within 2 business days after we receive your electronic files (assuming there are no major problems with your file).

How long does it take for you to complete my order?

Most jobs will be shipped or delivered within 5 - 7 business days after you approve your proof. Shipping by UPS takes from 1 to 7 business days to get to you depending on your location. We offer free local shipping and delivery in the Syracuse area.

Is white considered a printing color?

Not typically. Because white is the default color of paper, it is simply recognized as the absence of any ink. However, when using colored paper, white ink may be used if any text or graphic requires it.

Tips on how to save your design files

Make them print ready and acceptable for us to print.

COREL DRAW:
Saving your Corel Draw file as an Adobe Illustrator EPS
• Embed all Images
• Convert all your text/copy to outline fonts
• Export as Illustrator EPS

FREEHAND:
• Embed all Images
• Convert all your text/copy to paths
• Export as Illustrator EPS or PDF

PAGEMAKER:
Saving your PageMaker file as an EPS
• Embed all Images
• Convert all your text/copy to outline fonts
• Export your file as an EPS using the below settings:
Postscript Level 2
CMYK Mode
TIFF format and
Binary

PUBLISHER:
You will need to have the full version of Adobe Acrobat PDF. If you don't please download and use our Adobe Job Ready Program. If you do have the full version of Adobe Acrobat PDF please follow the steps below.
Under File, Print, select Adobe PDF writer
Under Properties select Press Quality and Save your PDF

What file format should I use when submitting my electronic document for printing?

PDF (Portable Document Format) is the most common and preferred file format for submitting digital documents. With the installation of a PDF print driver on your computer, virtually any program can generate a PDF file suitable for printing. Both commercial and free PDF print drivers are available online for download from different sources.

What file formats can you take?We can take Quark (Mac Version), InDesign, Illustrator, Photoshop, Word, and most files output as a PDF.

What if I want to change something on my order after I've placed it or approved the proof?We require an electronic "paper trail" for all changes made after your initial order is placed. You may make changes to such things as quantity, shipping method, or shipping address. Please note that some changes cannot be made after certain stages in the production process -- for instance, the quantity cannot be changed once your job has
been printed.

What is a proof and why is it important that I look at it?

In printing terms, a proof is a one-off copy of your document after all modifications and printing setup processes have been completed. It is your last and best opportunity to make sure that the print job comes out the way you want. By carefully inspecting the proof, you can help us assure an accurate, flawless delivery of your print job on the first run.

What is the Pantone Matching System?

The Pantone Matching System (PMS) is a color reproduction standard in which colors all across the spectrum are each identified by a unique, independent number. The use of PMS allows us to precisely match colors and maintain color consistency throughout the printing process.

What is your phone number and operating hours?You can call us at 1-800-536-6201 or 315-468-6201 from 7:30am to 5pm EST Monday through Friday. You can send an e-mail at any time.

Good question! We are a full service shop and offer a wide range of products and services. To see a full listing and description of what we can offer you, check out the Products & Services area in the Customer Service Section of our website.

What types of storage media do you accept?We can take your files on a CD or Zip disk or you can upload your file using the Send us a File link on this website.

Why do the printed colors look different from the colors on my screen?

In short, printers and monitors produce colors in different ways.

Monitors use the RGB (red, green, blue) color model, which usually supports a wider spectrum of colors. Printers use the CMYK (cyan, magenta, yellow, black) color model, which can reproduce most—but not all—of the colors in the RGB color model. Depending on the equipment used, CMYK generally matches 85–90% of the colors in the RGB model.

When a color is selected from the RGB model that is out of the range of the CMYK model, the application chooses what it thinks is the closest color that will match. Programs like Adobe Photoshop will allow you to choose which color will be replaced. Others may not.

Will I always receive exactly the quantity I order?Most of the time, we ship you slightly more than you ordered. On occasion, we ship slightly fewer pieces than you ordered. Printing industry trade standards allow for overages or underages of up to 10%. If you plan to send your print order to a mailing list or need a guaranteed quantity, we recommend that you order 5-10% over the minimum quantity you need.

Will you match a sample I print out on my own printer, or a previously printed sample?There is no guarantee that your finished piece will match your printed sample. This is due in part to the widely varying results from different output devices including inkjet and laser printers, proofing devices, and different forms of printing other than true offset lithography. Even from one commercial printing firm to another, there can be significant differences in results. In particular, inkjet and laser prints are known to look substantially different than true offset lithography.