Karat 74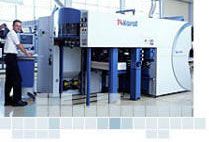 KinaneCo can meet tight deadlines and STILL produce outstanding quality, due largely because of their newest equipment addition - The 74 Karat Press.
The Karat, pronounced Care-ot, is one of only 12 installed in the Continental United States, and is manufactured by KBA of Germany.
The press features digital imaging of plates on-press, and is connected to KinaneCo's internal network, exactly like a large output device.
The Karat, however, is a complete offset printing press with capable of printing 20 x 29 press sheet using four printing units plus an on-line coating unit that enables the Karat to produce high quality work using many different substrates including vinyl, plastic, teslin, at up to 24 pt. thickness. One of the outstanding features of the press is the ability to image imposed 4 color files in just 8 minutes, resulting in turnaround times and incredible quality that are unheard of in the industry...
Try us and judge for yourself!